You have to hand it to Dell Computer Corporation -- when it comes to the Net, the company gets it. The statistics speak for themselves. By late 1996, early days yet in e-commerce evolution, Dell.com was already raking in US$1 million in online sales -- daily. Each quarter, those figures have leapt, making for great public relations fodder.
Today, while dotcoms grope in the dark in search of a small torch called Profitability, Dell's 50 million-bucks-a-day site is a blinding beacon of invincibility. More than 50 percent of the company's revenues are derived through the Internet. By 2001, it is projecting to grow that share of sales to 70 percent. You needn't be a seer to predict what the ultimate goal is.
In Asia Pacific, Dell's Web transactions hover at about US$1.8 million daily. But it wasn't always like that. Ooi-Wong Wai Kin, vice president of information technology of Asia Pacific, recalls how in 1996 when it launched its maiden regional website in Penang, sales on Day One stood at all of four orders. Suffice to say, Michael Dell was hopping.
"I, for the life of me, could not understand why," said Ooi-Wong, whose previous experience, shaping Abacus, a computerized reservation system for five of the largest airlines in Asia, hadn't prepared him for the empty seats. "But a week later we took the same online storefront, translated it into Japanese and launched in Japan and we got 250,000 orders on the first day. On hindsight, Japan was a very matured market, and most other Asian countries were not," said Ooi-Wong.
Driving acceptance internally was no less challenging. Ooi-Wong relates that when Michael Dell himself chose to take his direct model online, he actually came against resistance from fellow board members. "They told him stop. Don't do this. If it was tough for a CEO like him, you can imagine what a nightmare it was for me."
Bricks to Clicks in Asia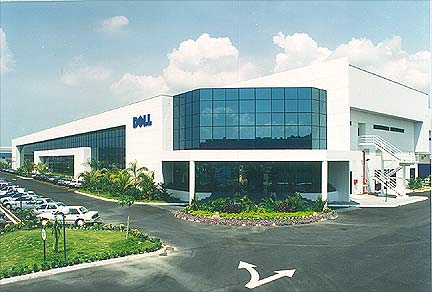 The Round Rock, Texas- based direct model giant first entered Asia with the set up of the Dell Asia Pacific Customer Centre (APCC), a 238,000-square-foot plant in Penang, Malaysia in November 1995. The facility was responsible for shipping Dell's complete range of systems, including desktops, notebooks, network servers and workstations direct to customers throughout the Asia Pacific.
Penang was the ideal choice as the manufacturing enclave plays host to a number of Dell's suppliers including Intel, Solectron and Quantum, shaving on precious delivery times and labor costs. The APCC shipped its two millionth unit in April 2000, and currently serves 13 markets in the region directly and 26 countries via distribution. In August 1998, Dell bolstered its Asian initiative with the set up of a 135,000 square-foot facility in Xiamen, China.
Dell's customers in Asia can now order and receive a PC within seven days. The parent website http://www.dell.com/ap supports 16 country-specific sites, using three languages apart from English including Chinese, Korean and Japanese. Customers can access a lifetime, toll-free technical support hotline and have multi-lingual engineers resolve more than 80 percent of all technical issues within 10 minutes.
In Asia Pacific and Japan, Dell's revenues were up 48 percent in the quarter ending July 28, 2000, with total revenues for the four quarters at US$2.2 billion. The company recently announced a move to sell into India directly.
Ooi-Wong joined Dell in March of 1996 and was responsible for the information technology set-ups in Penang and China. "Throughout the entire scope of work, e-commerce was a critical component of Dell's mission. Our online strategy was three-fold -- make it easy to do business with the customer, build on that relationship and give the customer a unique online experience."
The core of the Dell mantra was "move every process online." The Internet is about empowering individuals and dispensing with intermediaries. Give customers all the information they need and let them sift through it and mix and match at will. Shopping, after all, on- or offline, is a very personal experience best left to the customer.
Lubricate the Supply Chain
Ooi-Wong said seamless integration of its online storefront all the way to its back-end was crucial to make its online model work. "The supply chain management game in the Internet age is all about turning information into inventory and having intellectual assets replace physical assets. Our model is not to pull inventory until we get an actual order."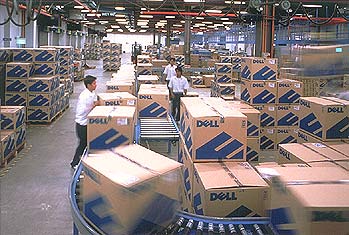 Dell practices virtual integration as opposed to vertical integration - the latter symbolized by Ford's Model-T operations. "That company used to manufacture everything - bolts, tires, steering wheels. Today, you don't need to do that because of best-in-class manufacturing. We don't need to do build Intel microprocessors, Solectron motherboards nor Microsoft software."

"In the past, manufacturers hid and kept secrets about their customers from their suppliers because they worried they would bypass them and go direct. Today, we provide and share a rich content of information with customers and suppliers, and execute well on that supply chain. The key is information. If you know what your inventory level is and you manage to steer the demand to that inventory level, then you've got it made," said Ooi-Wong.

"Frictionless" is a word you hear often in the Dell litany. The company aimed to take every inefficient process out of the supply chain and make the online experience as effortless as possible. Today, unlike old economy inventory cycles of between 60 to 90 days, Dell boasts an inventory cycle of an amazing seven days.

Ooi-Wong said Dell learned its bitter lesson on inventory back in 1989, when it was chasing every incremental dollar. "We stocked up on memory chips. Prices plunged, worsened by a transition from 256 Kbytes to 1 Mbyte, which left us stuck with excess inventory and we had to sell it off. We were hammered. So today we are adverse to keeping any inventory."

Don't Hold Inventory

Ooi-Wong points out that Dell is pushing the envelope further by aiming for every manufacturer's dream -- "negative inventory". "A prime example is monitors. Monitors don't enter our plant. They are shipped directly from our suppliers and merged with mother systems by our logistics partner and via distribution sent to its final destination --the doorstep of our customer. We call the practice 'drop-merge in-country'."

Dell also isn't worried that its quality will be affected by such moves. "We firmly believe our suppliers will supply us with the quality and delivery times we expect. We only partner with companies that are in it for the long term and can scale their businesses to meet our demands," he said.

Precise forecasting is central to pulling off the model, but Dell doesn't prescribe to shifting blame. " We have an internal catchphrase which is 'Don't perfume the pain'," said Ooi-Wong, suggesting that Dell doesn't dwell too long on missed forecasts - instead it acknowledges them, makes readjustments and moves on.

On the home front, Ooi-Wong said the channel conflict proved a serious hurdle towards acceptance of its online evangelization. "Sales people feared losing their commissions and being replaced by the new system. But gradually they warmed up to it and found it a great tool. The power of the Internet is that it pushes people up the value chain. Imagine finding 20 orders in your mailbox when you come to work in the morning. It was addictive," said Ooi-Wong.

He adds that the point-of-sale from the salesman's pitch to a signature on a quotation has evolved into a clickable, frictionless piece of encrypted information downloaded straight into manufacturing. "With every step of the process we send you email updates from shipping dates, to expected delivery, to a thank you note on the order's arrival."

Give Customers What They Want

He believes although its online model has proven successful, other behemoths in the industry are hard-put to replicate it because a huge chunk of their business is still stuck in indirect channels, and they fear raising the spectre of channel conflict.

Dell has always focused on smoothening the online experience, particularly for its more loyal corporate clientele. Its Premier Pages initiative, for instance, provides Dell corporate customers a personalized website with instant access to help desk activities, order status and product database specific to the customer's predetermined needs.

Its latest service currently available in Asia is the BusinessStore, which is for companies that don't necessarily want a dedicated Premier Page but want to be able to create their own quotations and order online. The BusinessStore eliminates much of the wasteful day-to-day telephone contact, and customers can quickly price, configure and order new systems via the website, besides tracking back-orders, shipping and warranty details. That translates into significant savings of time and money, especially when it comes to the annual audit for companies.

Ooi-Wong points out that listening to customers' opinion and feedback has formed the cornerstone of the Dell direct business model. "Consistently our customers come back to tell us three things that will keep them 100 percent happy - prompt delivery, top-of-the-line quality, and quick turnaround on support."

He said that Dell discovered early that it should never underestimate the online savviness of its customers -- even in Asia, where bargaining and the need to "kick the tires" is commonplace. "You'll be surprised that we found online buyers were even more prone to purchasing higher margin configurations as opposed to traditional customers who are always driven by pricing."

For the future, the world's No. 2 PC-maker has several aces up its sleeve and is gunning for top position and beyond. It is continually fine-tuning the site's response times to buy Dell products, get support, or find company information. "We are moving from paperless purchase orders to paperless invoices. We also plan to tie up top-tier partners to link their helpdesks to Dell's website in a kind of loyalty club."

The golden rule at Dell is that the web experience must be better than any experience in the physical world. "We want to capture the softer skills that are part of a salesperson's bag of tricks that makes customers come back again and again. We want our website to become the Disneyland of the online world. Once you go there you never forget the experience," he said. For Dell customers, putting Mickey back in the mouse can only be a wish come true.



Published in Dotcom.com