Latest News


As opposed to useless ones.


All previous stories


Updated: Feb 10, 2000

TMnet ties-up with MSN for co-branded portal
February 03 2000, Kuala Lumpur -- Malaysia's leading Internet service provider TMnet is teaming up with Microsoft Malaysia to enhance its portal with a new range of features. ''We will add various bells and whistles and put in richer content from our stable of properties under the MSN brand," said Jason Lim, Microsoft Malaysia consumer group director. More.

Cybertrading kicks off, but company urges govt regulation
January 28 2000, Kuala Lumpur -- "Stock-trading for the masses," that is the mantra for Virtual Commerce Group, the company that launched Malaysia's first free, multi-broker, Internet-based trading facility for retail investors today. However, in the same breath, its executive chairman Nik Mohamed Din urged regulators to get cracking on drawing up rules to avoid possible abuses of the nascent online equities trading industry. More.

Malaysian portal players on the march
January 27 2000 , Kuala Lumpur -- It may be just a case of portal envy of their American counterparts, but Malaysian portal players are definitely on the rise with new capital and expanded offerings."The face of local portal players has changed in Internet time. Stakes are raised with the entry of foreign players like Yahoo and Lycos, and Malaysia does not want to be left behind," said Richard Jacobson, senior Internet analyst for International Data Corp's Asia Pacific unit. More.




Getting a degree from your desktop
Oct 29,1999 -- Virtual varsities are still fairly new in Malaysia but judging from their rapid adoption will definitely give bricks-and-mortar universities a run for their money. Will the new concept improve the state of education in Malaysia? More.

When old media meets new
Oct 08, 1999 -- Five hundred and fifty years since Gutenberg first began work on that Bible, the printing press is under its worst threat since television. The good news is it's never been a better time to be a newspaper publisher. The bad news is you need to adapt or die. New media encroaches on all old media territory. Suddenly -- before you can say "Yahoo!"-- newspapers find themselves competing with the CNNs and Matt Drudges of the world. All that's fit to print is now all that's free to hyperlink. More.

Chat network ban: Lessons in Defective Communication
Sept 24, 1999 -- On August 16, when Malaysians Internet users were conditionally banned from accessing the Undernet, a popular chat network, the news was greeted with little surprise. Malaysians chatters were notorious for being regularly banned or in chat parlance, k-lined, from other networks including DALnet and EFnet. What was surprising was how one local ISP handled the situation. More.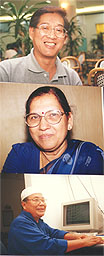 Golden Surfers: When older netizens get on the info highway
Sept 03, 1999 -- A growing population of senior netizens have taken the technological plunge. The common currency they have with younger counterparts is the luxury of time, and their motivations are not too dissimilar. Read the views of four of them and why there is a case for more to come on board in this Year of the Older Persons. More.

Homegrown software: the uphill battle to make a global impact
Aug 27, 1999 -- Developing your own software in Malaysia is a lot of sweat and tears, and very often a labor of love. In Malaysia, the odds appear stacked against the person with Camelot dreams. It is still very much a never-ending, Grail-like quest of one man with an idea. More.




Miko Matsumura: Evangelizing the Web-App
Sept 16, 1999 -- Miko Matsumura may have left his position as Java evangelist for Sun Microsystems but he's still singing the same mantra. The new spin on the "network is the computer" is that the "Net is the application." Here he speaks about the rent-a-web-app doctrine, the second coming of the network computer, and BizTone.com Inc, which is pioneering the new movement on the Net.






Contact ICQ No:13483624
Feedback: Email me
You are visitor
since Feb 11, 1999
View detailed stats by clicking here

Copyright 1992-2000, Julian Matthews. Please read disclaimer.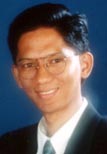 Who am I?