As opposed to useless ones.


All previous stories

Updated: Aug 15, 2000

ICG Bolsters Asian B2B Beachhead
August 14, 2000, Kuala Lumpur -- Nasdaq-listed Internet Capital Group plans to spend US$64 million on three maiden acquisitions in Asia through its Asian investment arm ICG AsiaWorks Ltd. They are: Breakaway Solutions Asia-Pacific, MegaVillage.com and AceFusion.com. CEO Victor Hwang speaks of ICG's strategy. More.



Will The Real Nissandotcom
Please Stand Up
August 3 2000, Kuala Lumpur -- Using one's own name for a dotcom may sound logical, but what if you just happen to share the name with a major corporation or celebrity? Well, be prepared to shell out the legal tab to protect it. Ask Mr Uzi Nissan, he should know... More.

Intel to set up Asia-Pacific incubator
July 31 2000, Kuala Lumpur -- Chip giant Intel Corp will kick off a newly-formed incubator for the Asia Pacific region based in Malaysia on August 1. Aimed at seeding and growing start-ups, the operation will be headed by YohaniYusof, who is currently the country manager for Intel's operations in Malaysia and Indonesia. More.

Time to diversify, says VoIP pioneer
July 22 2000, Kuala Lumpur -- Internet telephony player, Via Communication Network Sdn Bhd (VCN), is quickly diversifying in a move away from impending "cut-throat" competition. "The rates in the Voice-over-IP (VoIP) market will get very competitive very soon, turning it into a cut-throat business as the market becomes quickly commoditized. We cannot depend on calls alone, and are looking for other ways to create new revenue streams," says CEO, Alvin Foo. More.

Also:
Khen Lim: A one-man sales force, Intelligent Enterprise

Phileo Allied: Leading Malaysia's e-Banking Charge

LegalStudio: Now you can get divorced online

Arthursbooks.com to go beyond books




Patient Power!
The Internet has given rise to an empowered and better-informed citizenry and never more so is this apparent as in a subject as personal and affecting as healthcare. By all accounts, the proliferation of medical Web sites has enhanced the patient-doctor relationship. The ill and their families are more prepared, and have greater understanding of the issues involved, while the medical community can reach out in ways never before possible. More.

The e-commerce bandwagon: all aboard the B2B
The flurry of dotcom deals and interest in all-things-Internet in recent weeks prompted a surprise critique from Malaysia's tech-friendly Prime Minister Mahathir Mohamad in mid-March. "I hope companies like the Titan Group will not only survive the challenges of the information age, but also survive long after the bubble has burst on the dotcom companies," he said. More.

Knowledge Workers and why your e-business needs them

Living the Dotcom Dream

Toddlers on the Net: Should you get your child a PC?

Getting a degree from your desktop

When old media meets new

Chat network ban: Lessons in Defective Communication

Golden Surfers: When older netizens get on the info highway

Homegrown software: the uphill battle to make a global impact




Miko Matsumura: Evangelizing the Web-App
Sept 16, 1999 -- Miko Matsumura may have left his position as Java evangelist for Sun Microsystems but he's still singing the same mantra. The new spin on the "network is the computer" is that the "net is the application." Here he speaks about the rent-a-web-app doctrine, the second coming of the network computer, and BizTone.com Inc, which is pioneering the new movement on the Net.






Contact ICQ No:13483624
Feedback: Email me
You are visitor
since Feb 11, 1999
View detailed stats by clicking here

Copyright 1992-2000, Julian Matthews. Please read disclaimer.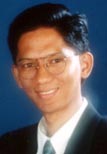 Who is he?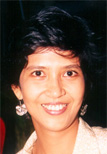 Who is she?