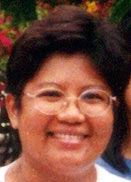 TODAY'S RECIPE
May 23, 2000
OYSTER SAUCE CHICKEN

Ingredients:
Half a chicken (cut into small pieces)
1 large onion
3 pips garlic
2 inch ginger
1 small can button mushrooms
6 tbsp oyster sauce
Hard vegetables (optional) - capsicum, celery, carrot
2 tbsp cooking oil
Method:
Chop onion and garlic fine.
Pound and extract juice from ginger.
Cut into half the button mushrooms.
Heat up cooking oil in a wok.
Fry garlic and onions in the oil.
Add chicken.
Cover and cook in its own juice for about 10 - 15 minutes, adding a little water if necessary.
Add mushrooms and any hard vegetables.
Fry till vegetables are softened.
Add oyster sauce.
Finally add ginger juice and dish out. Eat with rice.
Note: No salt needed in this recipe.
All enquiries to: Irene Matthews at matthewsirene@hotmail.com