Malaysian Technology News




Get the low-down on the Multimedia Super Corridor and all the hype and controversy surrounding the project!





The scramble is on but it may already be too late




Retrenchments, shutdowns, pullouts, recession, capital controls and political uncertainties.




Riot rumors, cybercafe monitoring, website policing, hacker watching and knowing your rights as a Netizen.





Mergers, buyouts, equal access and convergence.


NEWS

Updated: May 04, 1999

Malaysia Bets On MSC For Beyond 2000 Products
April 20, 1999, Kuala Lumpur -- Malaysia maintains, despite major delays, that the Multimedia Super Corridor project is still on track. One of the primary aims of the project is for companies to build products and services for the new millennium. More.

TecnoChannel/MyWeb to list on Nasdaq
March 16, 1999, Kuala Lumpur -- A local company that offers a system to access the Internet via television has listed on the US-based National Association of Securities Dealers Automated Quotation or Nasdaq , a first for Malaysia. More.

Local video-conferencing system tests fine on satellite hook-up
Feb 15,1999, Kuala Lumpur -- Malaysia has successfully tested a desktop video conferencing system on a satellite-based wide area network (WAN), which its makers claim is the world's first multipoint-to-multipoint videoconferencing system. More.

Malaysia's MSC Marred By Delays
Jan 17,1999, Kuala Lumpur -- The region's financial crisis has taken its toll on Malaysia's Multimedia Super Corridor (MSC) project and doubts have begun to arise on its viability. More.

Malaysia rushes to comply to avert Y2K crisis
Jan 1,1999, Kuala Lumpur -- Malaysia is seeking World Bank funding to remedy its Year 2000 problem, but experts fear it may already be too late. More.

Malaysia orders cybercafes to register users
Dec 22, 1998, Kuala Lumpur -- In a further affront to the rights of the local Internet community, Malaysia has directed all cybercafes to register their customers or have their permits revoked. More.

Sun's Java evangelist joins MSC company
Dec 22, 1998, Kuala Lumpur -- Sun Microsystems Inc technical strategist and chief Java evangelist Miko Matsumura has joined a little-known Malaysian Multimedia Super Corridor company called Datek Sdn Bhd. More.

Cash-Strapped Fabs Yet To Get Off Ground
Dec 9, 1998, Kuala Lumpur -- Two government-backed advanced wafer fabs at the Kulim Hi-Tech Park in Malaysia have yet to get off the ground in over a year. More.

MSC Panel "Members" Taken Off List
Dec 3, 1998, Kuala Lumpur -- Malaysia's Multimedia Super Corridor project continues to draw controversy after high-profile members of an international advisory panel of the project were removed from a list available on the Internet. More.

Toffler Raises Doubts Over MSC's Future
Nov 23, 1998, Kuala Lumpur -- Under intense international scrutiny and amid the worst political and financial crisis in its recent history, Malaysia now faces doubts on the viability of its much-touted Multimedia Super Corridor (MSC) project. More.


FEATURES


Nicholas Negroponte on Why Bits Matter
When Massachusetts Institute of Technology Media Laboratory founder and digital economy advocate Nicholas Negroponte makes a prediction about the future you can't help but sit up and listen. But his vision - however close to the truth it may appear - can be frightening. At a talk in Kuala Lumpur earlier this year, his candid responses seemed threatening even.


INTERVIEW

Syed Iftikar on the coming removable drive age
"By the year 2000, we will have the technology and capability to produce 10 GB drives using GMR heads at a very low cost. It'll be like buying a Ferrari for the price of a Volkswagen."
Contact ICQ No:13483624
All Previous Stories
Feedback
You are visitor
since Feb 11, 1999
View detailed stats by clicking here

Copyright 1992-1998, Julian Matthews. Please read disclaimer.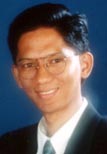 Comments
by Author