Five-year-old girl beats experts in stock market challenge
A five-year-old girl is still beating the stock market and financial experts after randomly picking shares.
Tia Roberts took part in an experiment last year to compare different ways of predicting the stock market.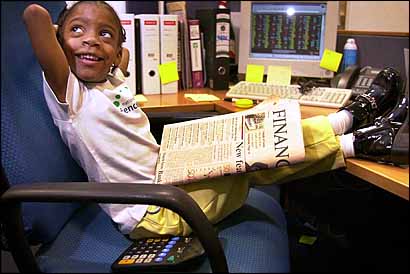 The experiment pitted Tia against financial astrologer Christeen Skinner and independent analyst Mark Goodson.
Each invested a virtual £5,000 in a fantasy portfolio during National Science Week 2001, with Christeen choosing stocks based on the movement of the planets and Mark using his expertise and computer analysis.
Tia, who picked her stocks at random by grabbing numbered notes representing each company in the FTSE 100 Index, won last year's competition as her shares performed best during National Science Week.
The test of time shows Tia is still a winner, with her portfolio the only one to gain value a year later.
Tia's portfolio is up 5.8% one year on; while Christeen's is down 6.2%; and Mark's selections have fallen by 46.2%. During the year, the FTSE 100 Index has dropped 16%.
Richard Wiseman, a psychologist at the University of Hertfordshire who devised the experiment, says: "It's amazing to see that after a year of the experiment, Tia's portfolio is still doing well.
"The original experiment looked to see if it was possible to predict the stock market over a short period of time. During an unstable year for the stock market, when the FTSE 100 dropped 16%, Tia's random selection has still managed to outperform the others."
Analysis of the portfolios has been carried out by Henk Potts, from Barclays Stockbrokers. This year's National Science Week, which runs until March 17, is organised by the British Association for the Advancement of Science.
ADD THIS SUBJECT TO YOUR NEWS:
Find out how
---
SHARE THIS NEWS:
Email this story to a friend
---
RELATED STORIES:
Bottled icebergs head for Britain
12:34 Sunday 10th February 2002
More related stories
---
CHECK FOR MORE ON:
Quirkies
Business quirkies
Consumer issues
UK
Business
---