"It's never too late to learn," says the 64-year-old, on his first exposure to the PC. He was as eager to get online as his young course-mates, some of whom were one-quarter his age.
Three months later, he was pounding the information superhighway from his home in Kampung Jana Sambungan, in Kamunting, north of Perak - the sole individual in his village plugged into the Internet.
"Sometimes, I would be at it all day and night," says the spry pensioner, much to his wife's dismay. "She didn't mind that I spent RM3,000 (US$790) on the PC, but when the phone bills went up, she wasn't happy at all," he guffaws.
Early criticism by a web visitor of his first attempt at a homepage got him fired up to pore through source-codes and learn HTML through trial and error. "I used to get headaches from staring at the screen so long and once got so sick that I needed medical treatment," he recalled.
But the "addiction" had its rewards. His improved homepage has since garnered him no less than 35 awards for website design. "I am grateful to a number of cyberpals I met along the way, who helped with pointers and advice," he says, noting that all of them were much younger in years.
A collection of personal beliefs, philosophy and poetry, the homepage sports the banner "oldest Malaysian webmaster" a title proclaimed upon him by a fan.
The most poignant moments in Mohamed's homepage are memories of the bitter and dark days of the Japanese occupation of Malaya (now Malaysia) during World War II as seen through the eyes of a nine-year-old.
"I remember how we subsisted on tapioca and salted fish and I nearly succumbed to bouts of malaria and typhoid…and how I lost my best friend," says rheumy-eyed Mohamed, the emotions still close to the surface.
Although he still considers his site amateurish, the compliments from visitors and awards encouraged him, and an even won over his initially-skeptical wife in the new pursuit of online fame.
Mohamed is among a growing population of senior netizens who have taken the technological plunge. The common currency they have with younger counterparts is the luxury of time, and their motivations are not too dissimilar.
"Older people want to learn to use the Internet for many of the same reasons -- curiosity; to stay in touch with family and friends; to remain engaged with the world. What they do online is also similar. They exchange email, research particular topics and play games - although the games they play are different than younger folks," says Laura Fay, Assistant Director of Development and Public Relations at SeniorNet, a US-based non-profit organization aimed at teaching computer-use to adults age 50 and older.
"The similarities between the generations far outweigh the differences. Certainly, on SeniorNet's site the contributors are more courteous and get to know each other more personally than at sites geared toward teenagers, but debates still get heated and flames have, on occasion, been exchanged," says Fay.
Fay says the Internet has also been a powerful medium to bridge distance and disability and become a window to the world for the house-bound.
"On SeniorNet's writer's discussion, for instance, there is one contributor who is deaf and confined to a wheel chair. The Internet has made it possible for her to connect to other people and to share her passion for writing. The encouragement she received has made it possible for her to publish her work, something which probably would not have happened without this medium," she cites.
Fay estimates there are about 20 million adults over 50 on the Internet in the US and they account for about 20% of the online population.
Established in 1986, SeniorNet has over 160 volunteer-run Learning Centers throughout the US which provides computer training for older adults. It also sustains online communities with hundreds of discussion groups in which older adults can collaborate and support one another and share their wisdom with younger generations.
"Older people have lifetimes of experience to contribute, and first-hand accounts of the major events of the 20th century, their online voice is terribly important, " she says, citing SeniorNet's World War II Living Memorial as an example.
One of the greatest motivators for older people to become computer-literate is to keep pace with their children and grandchildren.
Dr Rugmini Chandran, 61, took the cyber plunge on the insistence of her two daughters who were both studying in India. Rising phone charges and collect-calls from India was also a prime motivator, she laments.
By her own diagnosis, the doctor is technophobic and begs away from manipulating anything mechanical whether it be the VCR or microwave. "I have never used a computer. The prospect of having to do so was scary. I remember my first time, the cursor kept moving all over the place and I couldn't control the mouse," she says on purchasing a Pentium multimedia PC.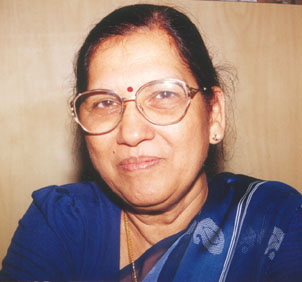 Close family friends coached her on weekends for about a month and she also solicited help from more Net-savvy relatives and friends who stopped by. Soon she was sending email and surfing like a pro. "My two daughters in India write to me almost daily now and my husband and I look forward to their emails. They're a bit disappointed about my brief replies, though, on account of my slow typing," says Dr Rugmini, who runs her own clinic in the small town of Kuala Kangsar.
She recalls recently a late night phone call from her daughter in India desperately wanting a recipe for a special dish to celebrate Onam, a Hindu festival, and insisting mum sent it via email immediately. "It was daunting to type it, but somehow I managed," she says, delighting in the ability to still play mother despite the distance.
Dr Rugmini, who migrated to Malaysia in the early 70s, also emails friends and relatives in Bahrain, Singapore and various parts of India. Her eyes sparkle at the fact the Internet has opened a wealth of information - particularly on her homestate of Kerala, in India, and the ability to read some sites in the Malayalam language, listen to her native music, and follow the political scene there.
Barely three months into her online adventure, Dr Rugmini has transformed into technology aficionado and is now tempted to get a PC for her clinic for record-keeping, buy a scanner to send pictures, and perhaps dabble with chat programs.
Retired avionics instructor Ron Whiting, 71, marvels at the tremendous progress PCs have made in recent years, recalling its first exposure to a Sinclair ZX 81. "It had 1Kb memory and you had to look at the black and white screen after every keypress to check whether a character had been typed," he says.
In the last six years of using computers, Whiting has taken the upgrade path from a 286 to 386, 486 and finally a Pentium, and naturally progressed from electronic bulletin boards to the Internet.
Despite espousing the hardware, Whiting still has misgivings on the current software and believes it will put off older folk from taking the first step. "It is not sufficiently user-friendly or intuitive," he says cursing a recent Win 95 to Win 98 upgrade that messed up his email.
The Internet, however, has been a god-send in keeping touch with his three children in Britain and renewing a 25-year-old friendship with a radio amateur enthusiast in Scotland. It has also enabled him to explore his interests in military aircraft technology and war stories.
"I lived through most of my teen years during the World War II in Cornwall, England, when bombs exploded no more than 200 yards from my home. So the war has plenty of memories for me," says Whiting, who arrived in Malaysia in 1976 to teach and retired in 1993, the same year he bought his first PC.
Patrick Tan, 54, says when he first got online two years ago he felt "like a kid let loose in an amusement park". "It was an adrenalin rush. The first hour I went everywhere and, really - nowhere. I just clicked my poor, over-worked mouse on anything that was clickable," he says.
Once he got the hang of it, the retired accountant even stopped subscribing to newspapers and costly foreign magazines altogether. "I also went through the phase of signing up for a whole lot of online publications, downloading them and reading them offline, but eventually that became tedious and I am now more selective."
Tan's net excursions enabled him to chat with both his daughters, then studying in Australia through ICQ, and on occasion, using a digital camera, send them pictures of their Ipoh hometown. "From time to time, I would taunt them with mouth-watering pictures of their mum's cooking. This really made them home-sick!"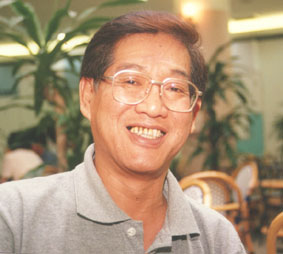 A do-it-yourself enthusiast, Tan enjoys downloading and experimenting with a variety of freeware, shareware and utility programs. That eventually took its toll on his trusty PC and resulted in crashes and frequent trips to his neighborhood computer shop. "It is the 'f' word at the computer shop - to Format my hard disk that is," he grins.

The former accountant has also dabbled with genealogy software - a particular interest of older Netizens - and took pains to trace and a build a family tree beginning with his great grandfather who migrated here from mainland China.

He pestered relatives for the data - a particularly difficult task because of the dispersion, memory losses and attempts to match dates of the Chinese and Gregorian calendars. Tan eventually came up with a list spanning six generations which he dutifully printed out for his family. "It was six feet long, and I printed about 30 copies until my printer ran out of ink. But I felt it was an important documentation to do before I die. I never would have done it without a PC," he says.

The Internet also helped in researching health issues, remembers Tan on the recent loss of a friend to lung cancer and hepatitis at the age of 49. "I searched for information on the ailments, and possible cures and treatments and printed it out for him," he relates.

Tan equates the Net to a giant library and believes he has only scratched the surface. "If you locked me up in a dungeon, I'll still be sane if I had Internet access - better still if it is on an ISDN line," his eyes gleaming with relish at the thought. "With the Net, no one can ever be lonely anymore," he concludes.

Tan's advice to his more wary peers is not to fear taking the technology hurdle. "You have nothing to prove to anybody but yourself, so don't be afraid to ask and learn," he says.

Despite the value older Netizens may bring to Net, the local industry has yet to offer discounted PCs or access to older citizens or replicate SeniorNet-type programs here.

Prof Dr Tan Poo Chang says it may due to the lingering belief that they are not a significant part of the online population.

"The Net is the only place which has no race, age and sex bias for social interaction and communication. If older persons are given opportunities to access technology and Internet, they will be able to remain within mainstream society," says Dr Tan, an ardent advocate for computer-literacy regardless of age.

"On the average, a person aged 50 years has at least another 20 or 30 years to go before passing on. Why should a third of our lives not be enriched by getting on the Net?"

Universiti Malaya lecturer Dr Tan pioneered the Petaling Jaya Community Centre, near Kuala Lumpur, which is a research project for older persons set up in 1996, and is currently planning a computer-literacy class for members.

Dr Tan dislikes the term "senior citizens" and "elderly" which are closely linked to dependence, weakness and ill health, preferring the politically-correct "older persons" coined by the United Nations for its 1999 International Year of Older Persons campaign.

According to UN estimates, the economics professor says more people will live to a ripe old age in the future as mortality rates are on the decline.

By the next year, an estimated 1.4 million citizens or 6.5 percent of Malaysia's 22 million population will be aged 60 or over. By 2020 that percentage will rise to 10.8 percent or 3.2 million people.

By 2020, the UN estimates that Asians will comprise over half of the one billion people aged 60 and above in the world.

Population aging may indicate the crucial role technology may need to play in integrating the older person in society in Asia. Certainly a Net-empowered older citizen will be a far greater asset than can ever be imagined.

"Technology will have tremendous impact on the lives of older persons. Given the opportunity, they will be able to enjoy the knowledge and social network only possible from Internet," says Dr Tan.

While fewer and fewer people qualify for pension funds or have enough savings or insurance to maintain a decent standard of living in the future, the Net may be the lifeline that replaces such formal social safety nets.

Better then to make hay, in readiness, than get gray while the sun shines.

(Published in CNET Asia, Sept 03,1999)